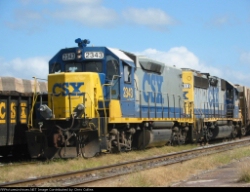 Welcome to the RRPictureArchives.NET contributor site of Chris Collins.



Hi, I am Chris Collins, a 40 something living in Cornwall, England, the other side of the Pond to my rail interests!

For the past few years I have been drawn to US railroads, both prototype and model.

During September 2005, I was able to take my vacation in Florida, and embark on a small roadtrip with an American friend who is also a railfan.

This trip saw us pass through Wildwood Yard on 20th September 2005, then onto Baldwin Yard and ended at Folkston and the legendary Funnel.

We spent all day on the 21st at the Funnel, the day being slightly marred by heavy cloudbursts off the edge of Hurricane Rita, and then the morning of the 22nd, before heading back South.

This is a selection of photos from those memorable days.

Several more trips have been undertaken since, with varying amounts of railfanning activity!



You may browse my collection of pictures via the menu located on the left hand side of the page. I hope you enjoy the collection and thanks for stopping by!